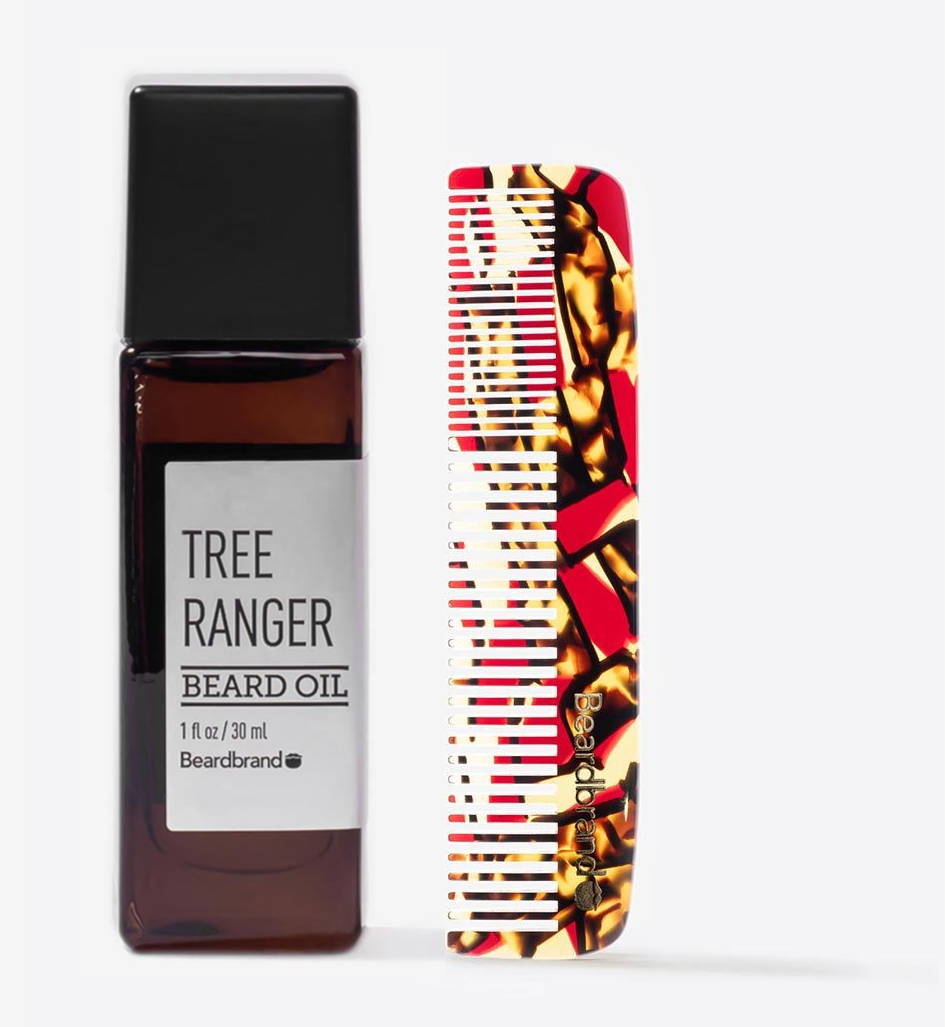 Automatic 10% Bundle Savings +
use code "COMBO" for free shipping.
The Ultimate Beard Combo
Reformulated with no known DHT-inhibiting ingredients, Beardbrand delivers a game-changing Beard Oil.

Our blend of Abyssinian, Babassu, Jojoba, and Castor oils is like nothing else on the market. It absorbs fast, is long-lasting, and doesn't leave your beard feeling greasy or weighed down.

Paired with the limited-edition Ketchup Fries Pocket Comb, this combo is a one-two punch for an awesome beard.  
Combo Includes: Tree Ranger Beard Oil 1 fl oz. (approx. 3 months) & the Ketchup Fries Pocket Comb.
What's it smell like?
This blend of refreshing eucalyptus, fresh pine, and sweet, sweet cedarwood takes root in your beard, hair, and skin and says, "that man is a trailblazer." Yeah, Tree Ranger keeps you smelling like you just hiked through a Pacific Northwest Forest.
Use it for: maintaining a healthy, soft, hydrated, and awesome smelling beard.
How Much You Get: 1.0 oz / 30 ml. (approx. 3 months).
Tree Ranger Love It – Eddy
I absolutely love the Tree ranger, one of the best smelling beard oils I've ever tried. Definitely recommend it also feels refreshing and smooth. Your beard will be grateful.
Worth Every Penny – Ricky
Tree Ranger Beard Oil smells just as described. Performs exceptionally perfect.
Great First Experience – Shawn
I have to say that part of my reason in having a beard is about low maintenance and no shaving. That said, I also appreciate a well groomed beard, especially as I let it grow. Tree Ranger has a pleasant but not overbearing smell and it absorbs quickly so I don't worry about getting my clothes oily. And of course it helps tame that wild hair... in the beard that is.
Amazing – Abilasch
The tree ranger has a great scent and keeps my beard soft and well conditioned throughout the day!
Just the right size beard comb – Thomas
This is the fanciest and the sexiest beard comb I ever used. It has super smooth teeth and is just the right size, not too big and not too small.
No ordinary comb – Ken
I was a bit skeptical of this comb and the price of it, but it is as advertised. It slid through my kinky beard and brought order to chaos, with the help of my Beardbrand products of course. Thanks.
It's as epic as it looks – Jason
This comb looks amazing and performs better! The rounded edges glide through the beard instead of pulling like a normal comb. Its worth the price 👊
Best comb ever – Chase
Love this comb works great on my gears small enough to keep on pocket to fix maskbeard and love the color wife laughed but I had to tell her she couldn't have it.
If you aren't completely satisfied with our products, we'll take care of you. If something doesn't work, we'll find you a product that does, and if we can't, we'll make you whole.
We offer full refunds up to 60 days from the date of purchase.

After 60 days, we can do a refund as store credit.

Swaps are always free (net the difference in product costs).
SAY GOODBYE TO SCENT CONFUSION
What happens when your soap, hair care products, beard care products, styling products, and cologne are all in entirely different fragrances?
You end up smelling all discombobulated. It's confusing—it's scent confusion.
We've worked hard at Beardbrand to formulate a full line of products for hair, beard, and skin in six awesome fragrances. With 12 unique products available in all Gold Line fragrances, and 11 in all Silver Line fragrances, Beardbrand has you covered from the top down so you can finally say goodbye to scent confusion.
SCENT CONFUSION™