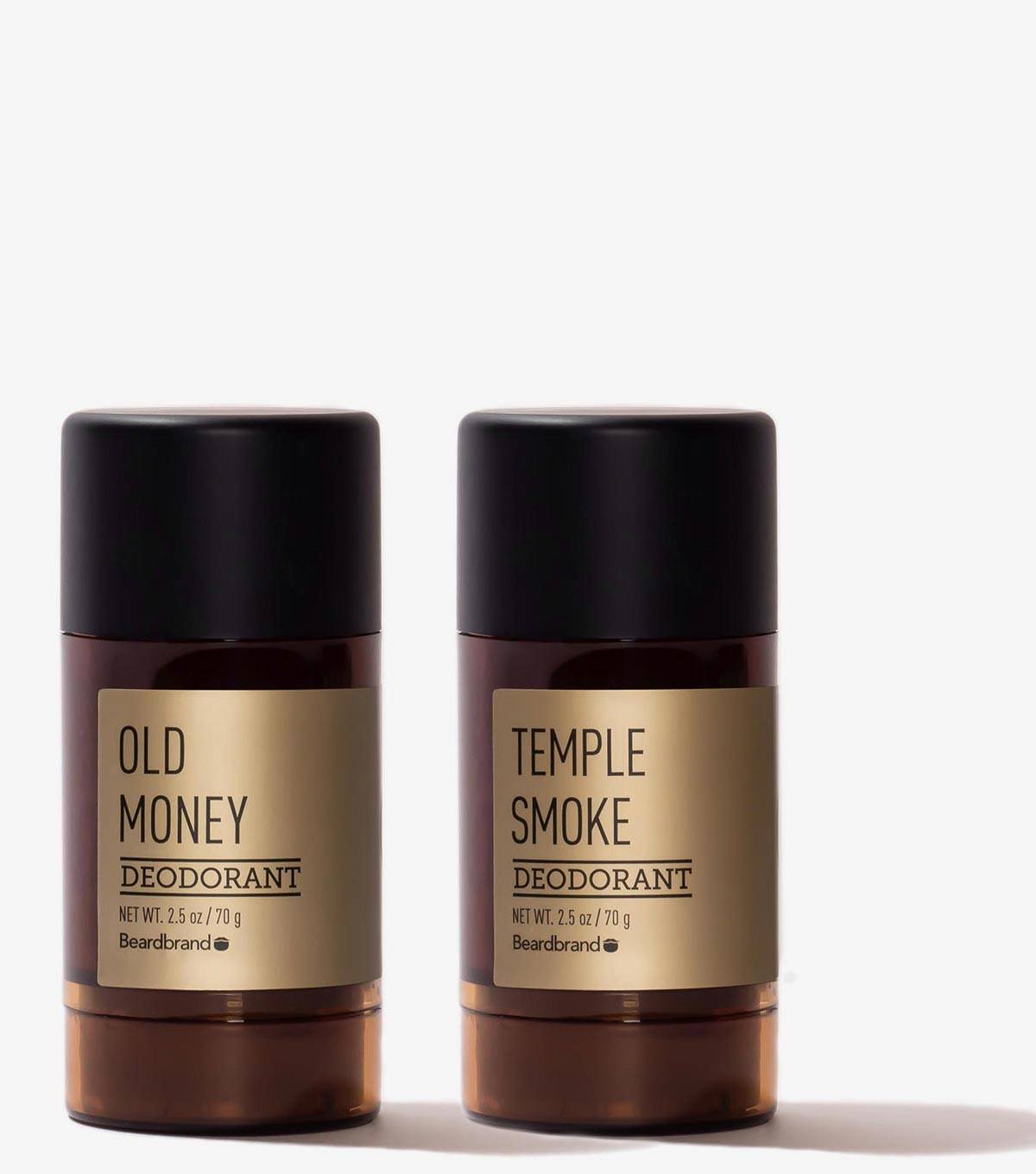 Use code "COMBO" for free shipping.
Don't sweat it; you smell awesome
Beardbrand Deodorant delivers natural odor protection without the aluminum, baking soda, alcohol, and other harsh ingredients found in ordinary antiperspirants. 
It's powered by Saccharomyces Ferment—naturally-occurring, live enzymes that breakdown sweat molecules and effectively neutralize both odor, funk, and wetness.
Stock up, save on shipping, and experience our best-selling Gold Line Fragrances with this awesome two-pack.
Combo Includes: Old Money & Temple Smoke Deodorant 2.5 oz / 70 g (approx. 3 months each).
What's it smell like?
Perfect for a temple retreat–or hastily retreating from a temple.
Inspired by the rich fragrance of oud incense, Temple Smoke's earthy and smoky undertones mix with frankincense and myrrh to create a rich, resinous blend.
Use it for: keeping your body odor in check.
How Much You Get: 2.5 oz / 70 g (approx. 3 months).
Amazing – Clay
I'm allergic to underarm deodorants. Pit rash and blocked pores . . . my old friends. Three weeks ago I purchased Beardbrand Deodorant (Temple Smoke). I'm pleased to report that no rash, bump, or irritation of any kind has occurred since I began using this product. This stuff is amazing. I should have bought the 3 -pack. Next time.
Sweat can smell this good!– Adam
Beardbrand deodorant is legit!! I've used many different brands over the years. Even natural deodorants. What I've come to realize is that the term 'natural deodorant' generally means 'doesn't work'. This is NOT the case here. Applied on lightly, Beardbrand deodorant passes the test! Whether I'm lounging around at home or busting my butt in the office, I'm still smelling pretty fantastic at the end of the day. Yeah!
Best deodorant on the planet! – Josh
Beardbrand, what else can I say?!? You've rung the bell on deodorant...game over. Ive only tried Old Money but let me say that it's the best deodorant I've ever used. I've already placed a second order. Folks, take my word and everyone else who's written a review here.. just buy it, it's the bombsauce.
If you aren't completely satisfied with our products, we'll take care of you. If something doesn't work, we'll find you a product that does, and if we can't, we'll make you whole.
We offer full refunds up to 60 days from the date of purchase.

After 60 days, we can do a refund as store credit.

Swaps are always free (net the difference in product costs).
SAY GOODBYE TO SCENT CONFUSION
What happens when your soap, hair care products, beard care products, styling products, and cologne are all in entirely different fragrances?
You end up smelling all discombobulated. It's confusing—it's scent confusion.
We've worked hard at Beardbrand to formulate a full line of products for hair, beard, and skin in six awesome fragrances. With 12 unique products available in all Gold Line fragrances, and 11 in all Silver Line fragrances, Beardbrand has you covered from the top down so you can finally say goodbye to scent confusion.
SCENT CONFUSION™