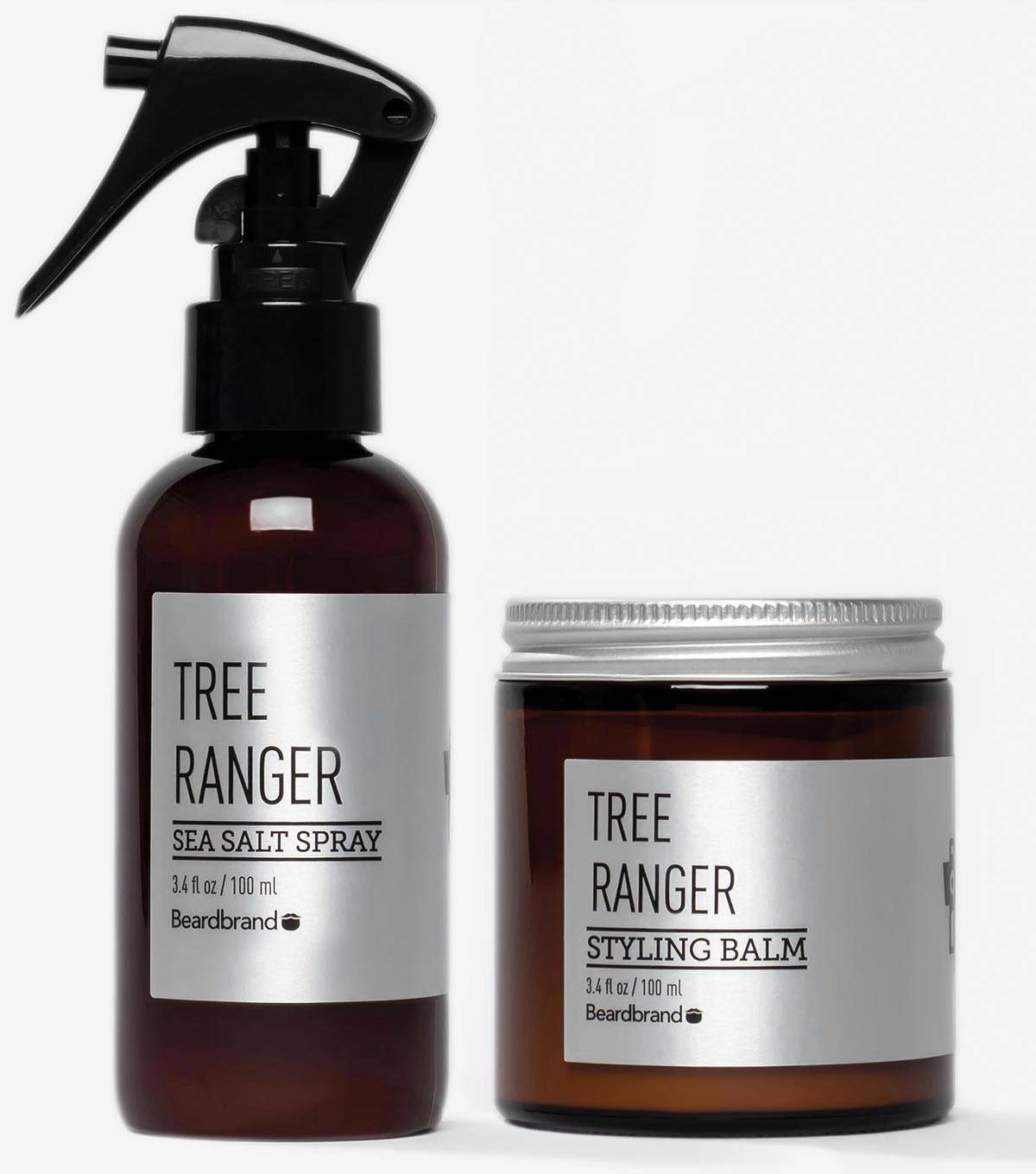 SEA Salt SPRAY + Styling BalM COMBO
Use code "COMBO" for FREE Shipping.
Two products; endless style
This ultimate hair styling combo comes with the only two products you'll ever need for awesome hair.
Beardbrand Sea Salt Spray gives you naturally textured, free-flowing hair. It's loaded with vitamin-rich Dead Sea salt that strengthens hair follicles; curl-enhancing magnesium sulfate; and kaolinite clay that helps eliminate toxins from the hair.
Beardbrand Styling Balm delivers a flexible medium-strength hold and satin finish that you can run your fingers through. No more hard, stiff, and crunchy feeling hair.
Combo Includes: Tree Ranger Sea Salt Spray & Styling Balm.
What does it smell like?
This fragrance blend of refreshing eucalyptus, fresh pine, and sweet, sweet cedarwood takes root in your hair and says, "that man is a trailblazer."
Yeah, Tree Ranger keeps you smelling like you just hiked through a Pacific Northwest Forest.
Use it for: keeping your hair and beard styled without being stiff or crunchy.
How Much You Get: 3.4 oz / 100 ml. (approx. 3 months).
This stuff is the best – Matt
I have long wavy hair and this stuff gives it a bit of texture and a little something extra to help out my style. It smells great too! I use the Old Money scent. It's my favorite. Never in my life have I tried sea salt spray. I guess I always thought it was something women used and men didn't need to. Try this stuff. I believe you'll love it.
Five stars – Adam
My hair is on borrowed time. I'm 32 years old and I expect to keep what's left of it for another 5 years, tops. But instead of buzzing it to avoid ultra-fine - dare I say, stringy - head hair, Beardbrand's Sea Salt Spray gives it the volume, texture, look, and even a scent that allows me to enjoy the short but precious time we have left together.
Great product – Lorenzo
Where has this been all my life?! I've used gels, waxes, hair sprays and many other things including toothpaste and superglue. But this stuff is amazing for getting the matte look I wanted and being able to reshape it after a drive with the top down. I love it and will only go with my styling balm if I need something a little firmer.
Two thumbs up – Andrew
I love it, it is a "smooth"process. You don't need to apply that much, it isn't super tacky, and it holds my hair in place with that natural low to no shine bedhead look. It also rinses out easy and smells great.
Awesome stuff – Rolando
So happy to finally get this product. The stuff works great! The scent of the styling balm is very nice. It keeps my hair in line all day and I don't have to worry about reapplying. I don't have to use a lot either which means I don't have to worry about spending to get more. I cant wait to try the other products y'all have.
Double duty – Mark
I use this as a hair styling balm and also on my beard. Love the Old Money smell and my wife comments every day that she loves the smell and how it stays all day.
If you aren't completely satisfied with our products, we'll take care of you. If something doesn't work, we'll find you a product that does, and if we can't, we'll make you whole.
We offer full refunds up to 60 days from the date of purchase.

After 60 days, we can do a refund as store credit.

Swaps are always free (net the difference in product costs).
SAY GOODBYE TO SCENT CONFUSION
What happens when your soap, hair care products, beard care products, styling products, and cologne are all in entirely different fragrances?
You end up smelling all discombobulated. It's confusing—it's scent confusion.
We've worked hard at Beardbrand to formulate a full line of products for hair, beard, and skin in six awesome fragrances. With 12 unique products available in all Gold Line fragrances, and 11 in all Silver Line fragrances, Beardbrand has you covered from the top down so you can finally say goodbye to scent confusion.
SCENT CONFUSION™