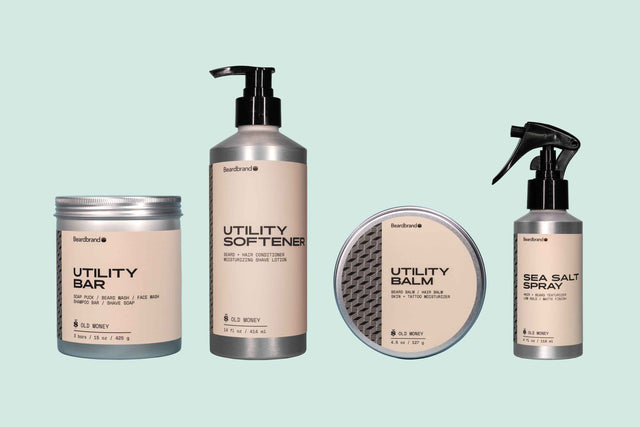 Sometimes it's best to just go with the flow. And when it comes to your style, you can take the same approach—letting your hair and beard flow naturally. Grooming doesn't have to be complicated. Keep it simple, natural, and efficient with this collection of 4 ultra-versatile Beardbrand products that deliver an entire head-to-toe grooming routine. How's that for low maintenance?
✓ Travel-friendly cleanser for beard, hair, face, and skin
✓ Ultra-moisturizing conditioner for hair and beard
✓ Deep-conditioning balm for beard, hair, face, and skin
✓ Low-hold texturizing spray for hair and beard
Retail Price: $133
Bundle Price:

$114
100% Risk-Free: If you don't love any of the products in this bundle, we'll buy them back or exchange them for another product — no questions asked.
Select Fragrance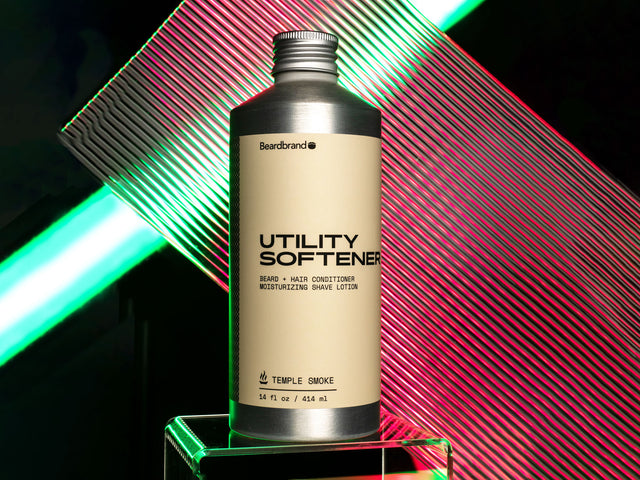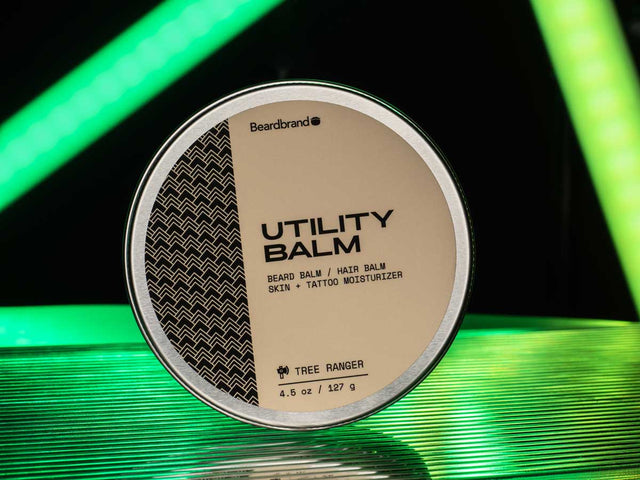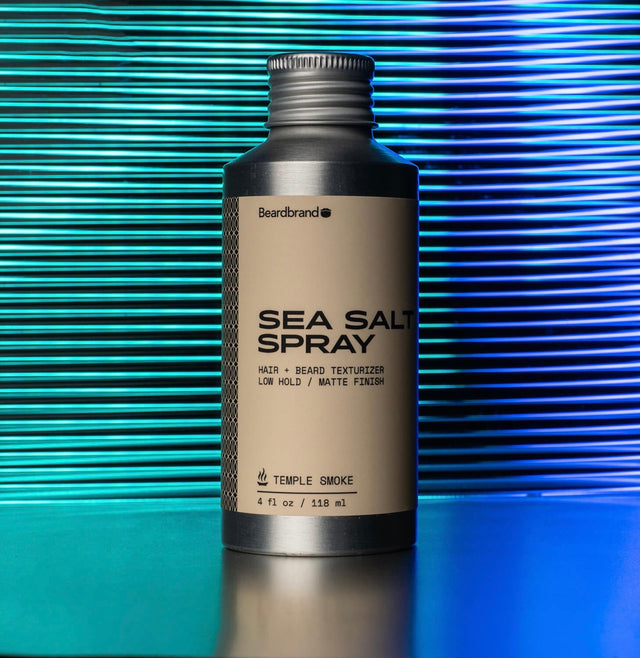 Utility Bar
Shower like you give a puck with the puck-shaped Utility Bar. Made with cocoa butter, mango butter, and coconut oil, these soap pucks serve as an ultra-hydrating skin and face cleanser, a moisturizing beard wash, and gentle hair shampoo.
Utility Softener
Life is hard; soften up with this do-it-all beard and hair conditioner featuring an ultra-moisturizing punch of coconut oil and shea butter. Utility Softener doubles down as a hydrating shave lotion that helps reduce razor burn and irritation.
Utility Balm
Use Utility Balm as a face and skin moisturizer, under-eye serum, beard conditioner, and tattoo moisturizer. It's formulated with natural ingredients — including murumuru and mango butter — to keep your skin clear and soft.
Note: This bundle ships with the new original Utility Balm in a 4.2 oz. container.
Sea Salt Spray
Give your hair added texture and volume for a natural, windswept style. Our Sea Salt Spray is loaded with vitamin-rich salt from the Dead Sea that nourishes and strengthens hair follicles. And it's infused with kaolin, which binds to toxins and soaks up excess oil from the hair and scalp, helping you go longer without washing your hair.
OLD MONEY
Old Money
Breathe deep—that's the smell of Old Money. With 23 fragrance notes—including aged oak, amber, and ylang ylang—this is a rich and complex scent that evolves throughout the day. As a fragrance, Old Money is right at home surrounded by rich mahogany, your favorite worn leather chair, a glass of whiskey, and a cigar.

Primary Notes: Oak, Amber, Leather, Lime, Ylang Ylang
Fragrance Family: Woody, Floral, Citrus
Fragrance Type: Rich & Complex
Add to Cart • $114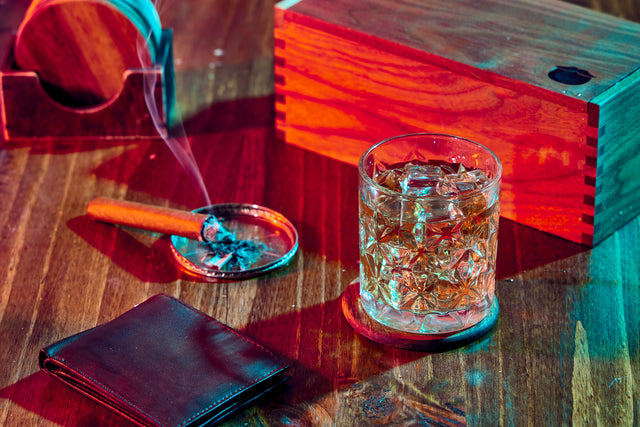 TREE RANGER
Tree Ranger
If a tree falls in the forest and no one is around, does it make a sound? Who the hell cares when you smell this good! We'll go out on a limb and say it—Tree Ranger will leave you pining for more. This blend of refreshing eucalyptus, fresh pine, and sweet, sweet cedarwood takes root in your beard, hair, and skin and says, "that man is a trailblazer." In other words, Tree Ranger keeps you smelling like you just hiked through a Pacific Northwest Forest.

Primary Notes: Eucalyptus, Pine, Cedarwood
Fragrance Family: Herbal, Woody
Fragrance Type: Light & Fresh
Add to Cart • $114
TEMPLE SMOKE
Temple Smoke
Temple Smoke is a mystical blend inspired by the rich fragrance of oud incense. It has deep and warm layers with an earthy, smoky undertone. The complementary notes of palo santo, frankincense, and patchouli create a rich and long-lasting blend. This resinous and smoky fragrance is perfect for a temple retreat or hastily retreating from a temple.

Primary Notes: Palo Santo, Vanilla, Frankincense, Patchouli
Fragrance Family: Woody, Resinous, Earthy
Fragrance Type: Sweet & Smoky
Add to Cart • $114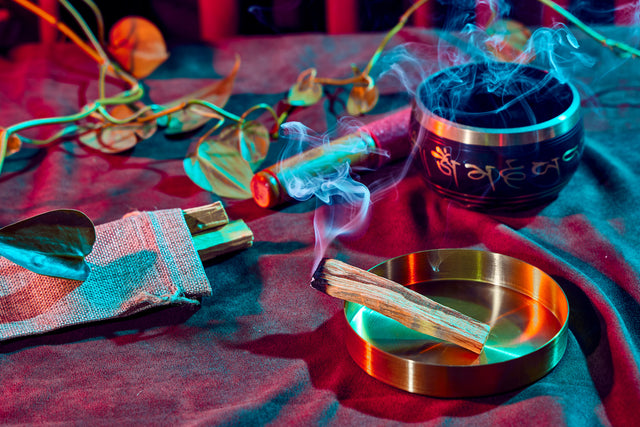 Keep coming back
"I keep coming back to Beardbrand soap. This soap is the real deal. And I love that you can use it from head to toe all at once if you're in a hurry. Leaving feeling fresh and clean."
Billy Widener (Glendale, US)

✓ Verified Customer
Utility softener or ❤️ softener
"If you are wondering if you should add this to your beard care routine, the answer is absolutely yes! This will help your hair soften up and is great for shaving my neck and bald head. I purchased Old money. A good smelling scent and beard softener that will have you feeling like your soul is completely ready for any b.s that the day will bring."
Jerald Diaz (Sylmar, US)

✓ Verified Customer
Game changer
"There is no doubt that Beardbrand products are worth every dollar. I purchased the utility oil, styling paste, and sea salt spray. Old money scent is awesome. It has made my grooming so much more effective now each day."
Chris Strothoff (Elizabethtown, US)

✓ Verified Customer
Build Your Own Bundle
There's no one-size-fits-all grooming routine — that's why we let you build your own bundle of Beardbrand products and save a little in the process.

As you add products to your cart, we'll automatically apply special bundle pricing. The more you bundle, the more you save.

Here's how it works:
Bundle 3 products + get 1 more free*
Bundle 5 products + get 2 more free*
Bundle 7 products + get 3 more free*
*The free item(s) will always be the lowest-priced items in your cart.

Want to save an automatic 20% without bundling? Subscribe to your favorite products and save 20% every single time they ship.
Shop Bundleable Products