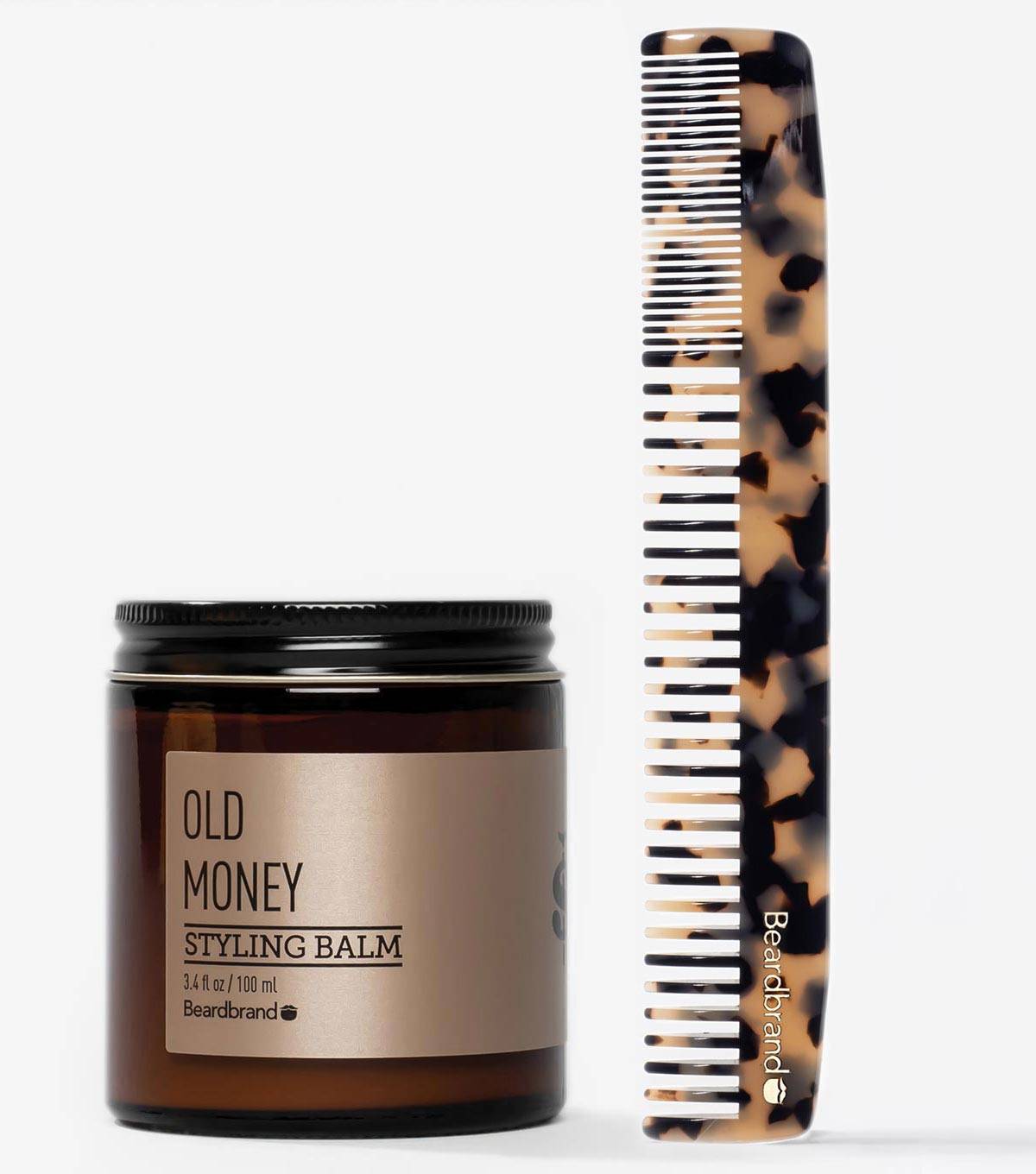 Automatic 20% Bundle Savings in cart +
FREE shipping with code "COMBO"
Flexible style for hair and beard
The Men's Health choice for best beard balm in 2021, Beardbrand Styling Balm does more than keep your beard looking awesome—it keeps your hair looking awesome too.
Made without sulfates, parabens, or silicones, Beardbrand Styling Balm gives you a medium hold and satin finish that doesn't weigh your hair or beard down. The soft, flexible finish allows your hair to move without feeling hard, stiff, or crunchy.
The large 3.4 oz jar gives you a 3-month supply of product. Paired with the limited-edition Morel Mushroom Large Comb, this combo is all you need for awesome hair—wherever you grow it.
Combo includes: Old Money Styling Balm ($37 value) and limited-edition Morel Mushroom Large Comb ($20 value).
What's it smell like?
Old Money replicates the luxurious feeling of being in the Biltmore Estate. With notes of aged oak, black pepper, and amber, this complex scent evolves throughout the day, and the 23 unique fragrance notes make it our most potent blend—yeah, that's what you call a rich fragrance.
Use it for: keeping your hair and beard styled without being stiff or crunchy.
How Much You Get: 3.4 oz / 100 ml. (approx. 3 months) in our best-selling fragrance, Old Money.
Two thumbs up – Andrew
I love it, it is a "smooth"process. You don't need to apply that much, it isn't super tacky, and it holds my hair in place with that natural low to no shine bedhead look. It also rinses out easy and smells great.
Awesome stuff – Rolando
So happy to finally get this product. The stuff works great! The scent of the styling balm is very nice. It keeps my hair in line all day and I don't have to worry about reapplying. I don't have to use a lot either which means I don't have to worry about spending to get more. I cant wait to try the other products y'all have.
Double duty – Mark
I use this as a hair styling balm and also on my beard. Love the Old Money smell and my wife comments every day that she loves the smell and how it stays all day.
Best comb out there – Nick
Tough, stylish comb you can probably pass down to your kids! I love mine so much I bought the small one as well. It's better than you would think and worth the price!
Great comb! – Shaun
Beardbrand's large comb is so well made! The designs are great and the comb has some weight to it which I really appreciate. The overall quality of this comb is impeccable! Hands down the best comb I've ever owned and I've owned some pretty high end combs (Mason Pearson), Beardbrand is the better comb! I will continue to buy every comb design Beardbrand puts out. Thank you Beardbrand for making such a high quality product!!
These will be the only combs I use from now on! – Michael
The title says it all.... I've tried cheap combs... all crap. These are the real deal that not only work as designed (they DON'T pull your beard hair) but also look awesome! Every time I buy a new one for myself, I have to buy two because my wife always steals mine!.
If you aren't completely satisfied with our products, we'll take care of you. If something doesn't work, we'll find you a product that does, and if we can't, we'll make you whole.
We offer full refunds up to 60 days from the date of purchase.

After 60 days, we can do a refund as store credit.

Swaps are always free (net the difference in product costs).
SAY GOODBYE TO SCENT CONFUSION
What happens when your soap, hair care products, beard care products, styling products, and cologne are all in entirely different fragrances?
You end up smelling all discombobulated. It's confusing—it's scent confusion.
We've worked hard at Beardbrand to formulate a full line of products for hair, beard, and skin in six awesome fragrances. With 12 unique products available in all Gold Line fragrances, and 11 in all Silver Line fragrances, Beardbrand has you covered from the top down so you can finally say goodbye to scent confusion.
SCENT CONFUSION™